---
Next time you head to the drugstore, remember your plan gives you money for over-the-counter (OTC) items, like pain relievers, eye drops, and toothbrushes. You get $50 or more to spend each month. (Give us a call to find out exactly how much.)
How does it work?
Our partners at OTC Health Solutions manage this benefit for us. They give you 3 ways to order:
In Store
Some CVS Pharmacy and Navarro Discount stores have a special OTC section, marked with a sign that reads OTC Benefit Products or OTC Health Solutions. Just choose your products from those shelves and take them to any register.
If your local CVS Pharmacy doesn't have a special section, no problem. Bring your OTC Health Solutions catalog to the store so you know which items you can buy (or print out the list in the What can I order? section below). Then, look for your items on the regular stores shelves that have a yellow tag: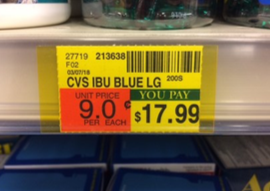 Online
Go to the OTC Health Solutions website. Login with your Devoted Health member ID and ZIP Code to place an order.
By Phone
Call OTC Health Solutions at 1-888-628-2770 and place an order.
What items can I order?
Any of the items in our OTC list:
Questions?
Want to know how much you can spend each month? Looking for a participating store near you? Call us at 1-800-DEVOTED (1-800-338-6833), TTY 711.