2024 Devoted Dollars
It pays to take care of yourself
Take key steps to stay at your best and you might earn a Devoted Dollars reward card to use on gas and groceries.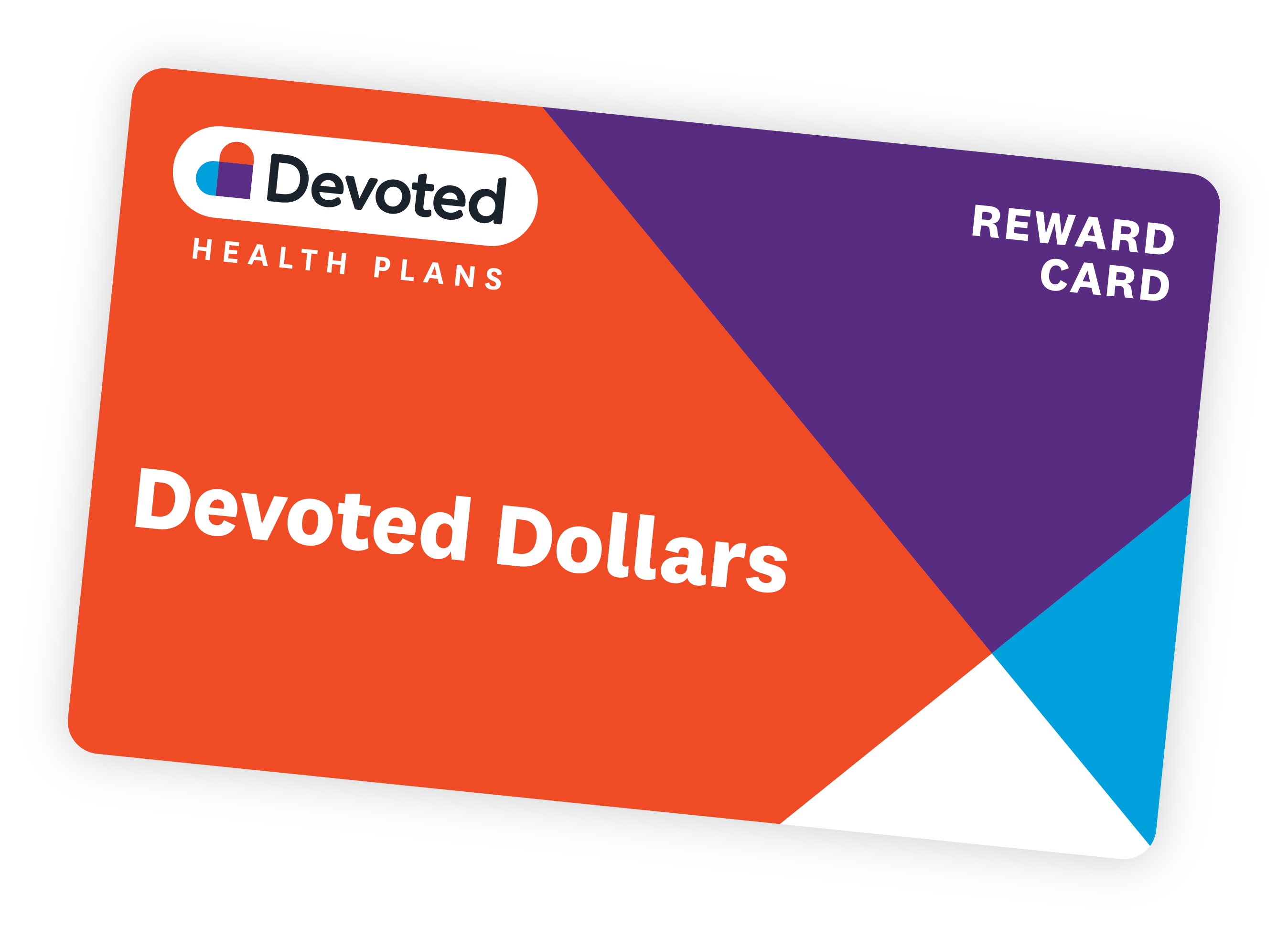 ---
Check if you get Devoted Dollars
See your What to Know About Your Plan booklet to find out if your plan includes Devoted Dollars and how much you can earn.
How to opt in to Devoted Dollars
Before earning a reward card, you first have to opt in to Devoted Dollars. You have 2 ways:
Call us at 1-800-338-6833, TTY 711
How to earn your reward card
To get your Devoted Dollars reward card, complete at least 4 of these activities in 2024:
Health Connections Checklist (complete it online or by phone at 1-800-338-6833, TTY 711)
Primary care provider (PCP) visit
An in-depth health check-in, like a Devoted to Me visit
Flu shot for the 2024 season
Colorectal cancer screening (if you're due for one)
Breast cancer screening (if you're due for one)
Bone density screening (if you're due for one)
All 3 routine diabetes exams (if you have diabetes): blood sugar test (HbA1C test), eye exam (retinopathy exam), and kidney health evaluation (blood and urine tests) 
If you have a C-SNP or D-SNP plan, you'll also get a $20 Devoted Dollars reward card for completing your yearly Health Risk Assessment (HRA). We'll send this reward automatically when we get your HRA, usually within about 90 days.
When you'll get your card
Once we see that you've opted in and completed 4 activities, we'll send your card automatically. It could take up to 90 days from when you complete your last activity.
How to use your card
The card comes loaded and ready to use on gas or groceries. No need to activate it first! A few things to know:
For gas, you'll need to pay inside. You can't pay at the pump.
For groceries, go to a grocery store like Publix, H-E-B, Kroger, or Safeway — not a big box store like Walmart or Target.
Choose "credit" when you pay so you don't need a PIN number.
If you're making a bigger purchase, ask the cashier to charge exactly the amount that's on the card — then use another payment method for the rest.
Common questions
How do I get credit for completing an activity?
You don't need to do anything extra or send any paperwork! When you complete your Health Connections Checklist, we'll see it automatically. For all other tasks, you'll get credit when your provider sends us a claim. Providers don't always send claims right away, so you might have a delay before getting your reward card.
Does the reward card expire?
It expires after 12 months, so don't wait to spend it! The month and year when it expires is listed on the card in MM/YY format — for example, "12/24" means it expires in December 2024.
Can I opt out of Devoted Dollars?
Of course! Give us a call at 1-800-338-6833 (TTY 711) or text us at 866-85. We'll remove you from the program.
Can I get cash instead?
Nope, you can't use your reward card to get cash.
Do I need to activate my reward card?
No, it comes loaded and ready to use. All you have to do is spend it!
---
Use your Devoted Health Plans Prepaid Mastercard at any grocery or gas merchant in the U.S. that accepts Mastercard debit cards. Issued by The Bancorp Bank, Member FDIC, pursuant to license by Mastercard International Incorporated. Mastercard is a registered trademark, and the circles design is a trademark of Mastercard International Incorporated. Your use of the prepaid card is governed by the Cardholder Agreement, and some fees may apply. This is not a gift card. Exclusions apply and card is not redeemable for cash. Please note that prepaid cards are subject to expiration, so pay close attention to the expiration date of the card. This card is issued for loyalty, award or promotional purposes.