You get $50 a month for healthy foods
Your Healthy Foods benefit gives you $50 every month to pay for healthy foods at your grocery store. And it's easy to use:
Go to your local grocery store, like Publix, Sedano's, and ALDI
Choose healthy items, like fruits, veggies, fish, meat, and eggs
Pay with your Healthy Foods card
Choose healthy items
With your card, you can buy foods like:
Fruits and vegetables
Meat and fish
Eggs, cheese, milk, and other dairy products
Whole grains, like whole wheat bread and brown rice
Nuts, seeds, and spreads
Olive oil and other plant-based oils
Supplemental drinks like Boost® and Ensure®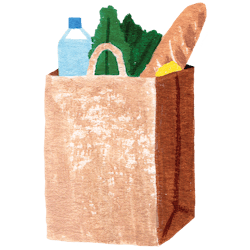 Shop at grocery stores
You can use your card at grocery stores like Publix, Sedano's, and ALDI. You can't use it at Target and Walmart Supercenters. Or at convenience stores like 7-11.
Spend all $50 at once
We suggest you stock up at the start of each month and spend all $50. That way, you're sure to use the full amount. We automatically add $50 to the card on the first of each month — and you can't roll over unused money to the next month.
Common questions
Do I have to activate the card?
Nope. Your card comes loaded, and it's ready to use as soon as your plan starts. Just remove the sticker and sign the back.
Do I need a PIN?
Nope, just choose CREDIT when you pay and you won't have to enter a PIN. If you'd like to add a PIN for more security, just call1-866-898-9795and our partners at Wex will set that up for you.
What if I don't spend all $50 at once?
You'll just need to keep track of your balance. And when you go to pay, you have to tell the cashier how much to charge to your card.
If I don't spend the full $50, can I save the rest for the next month?
Nope, so be sure to spend the full amount each month.
How can I check my balance?
Call us at 1-800-338-6833 (TTY 711). Or text us at 866-85. We'll respond to your text within 24 hours, but usually much faster.
Do I have to use the card to pay?
Yes. That's the only way to use this benefit.
What if my card is lost or stolen?
Call us right away at 1-800-338-6833 (TTY 711). We'll send you a new card and make sure that no one can use the old one.
Still have questions?
Call us at 1-800-338-6833 (TTY 711).